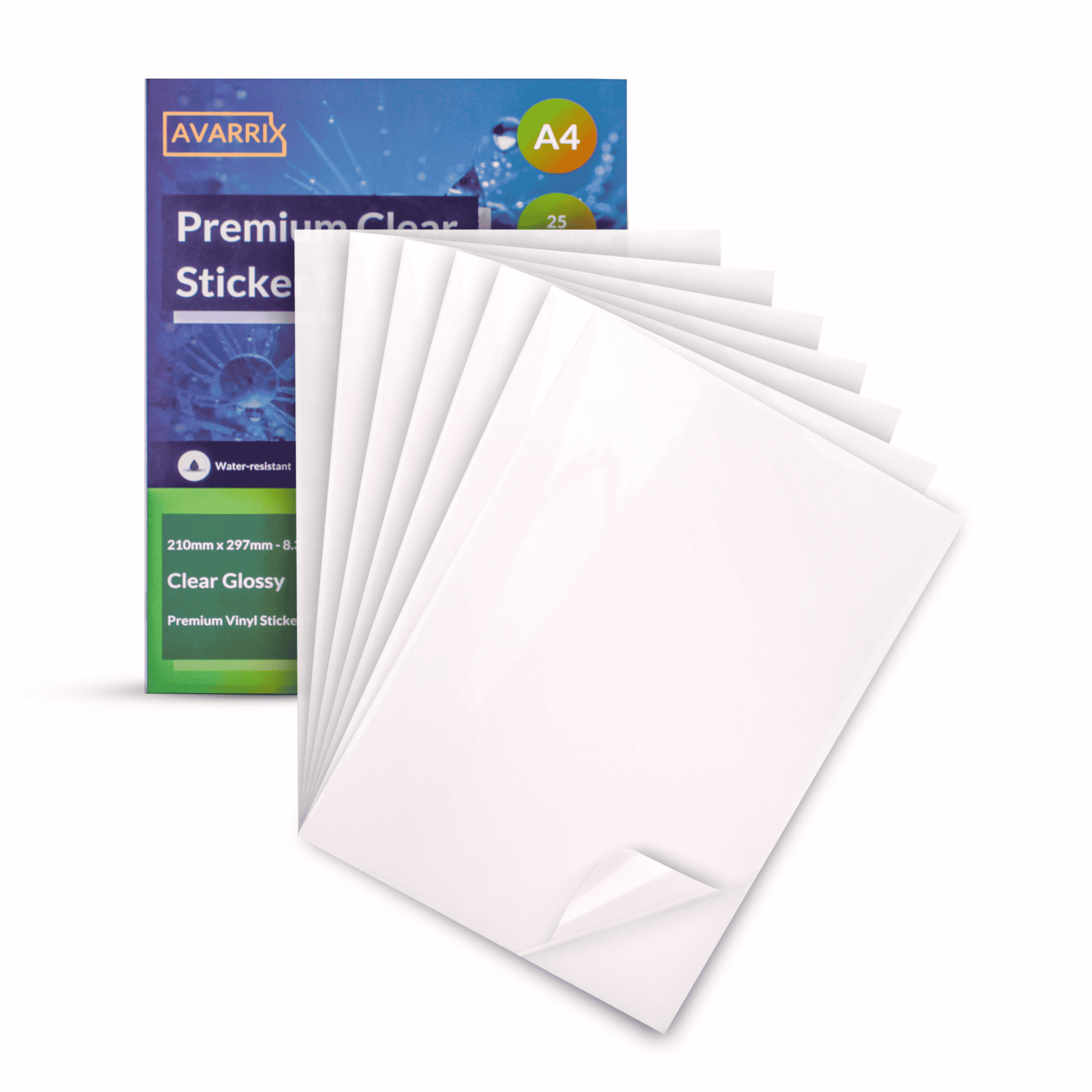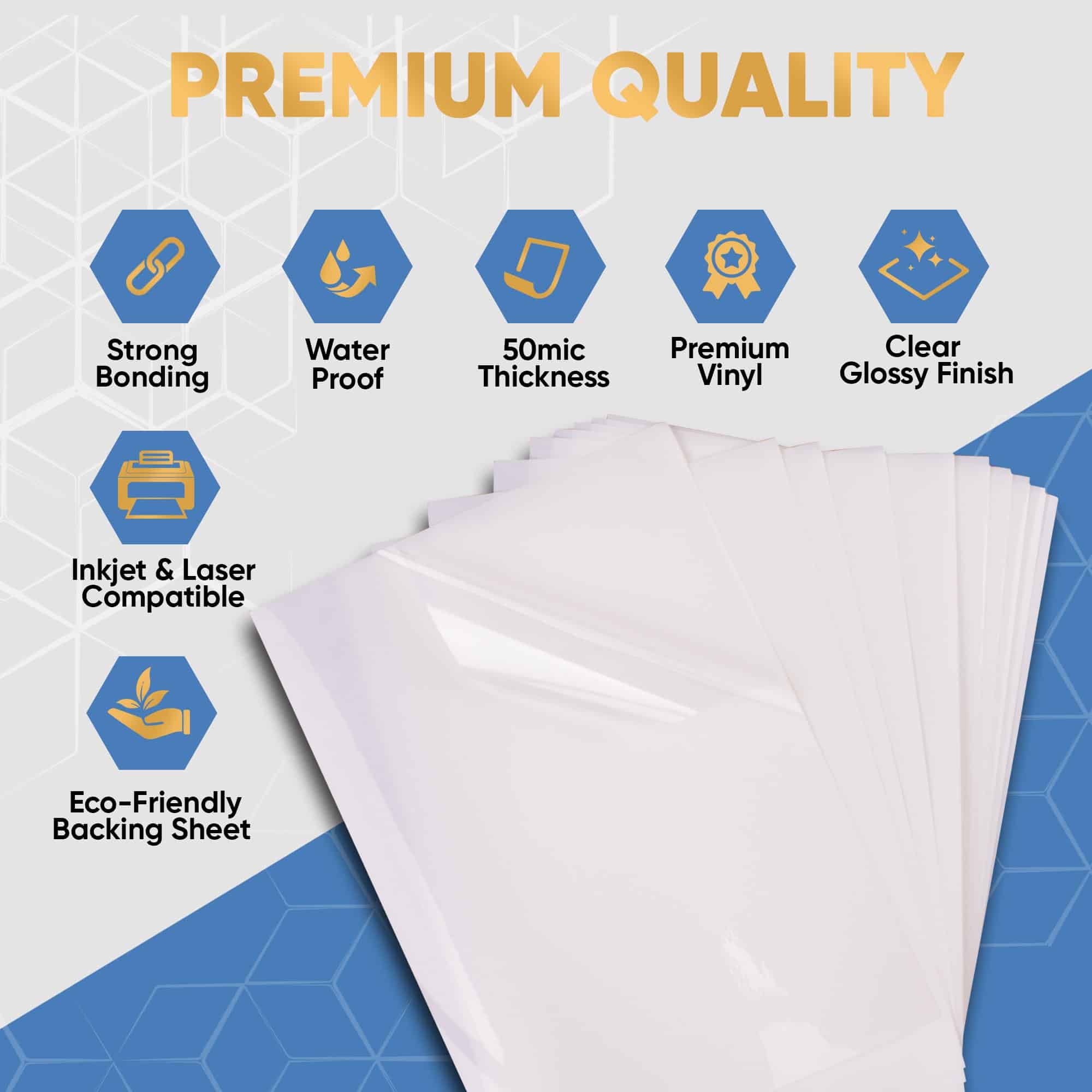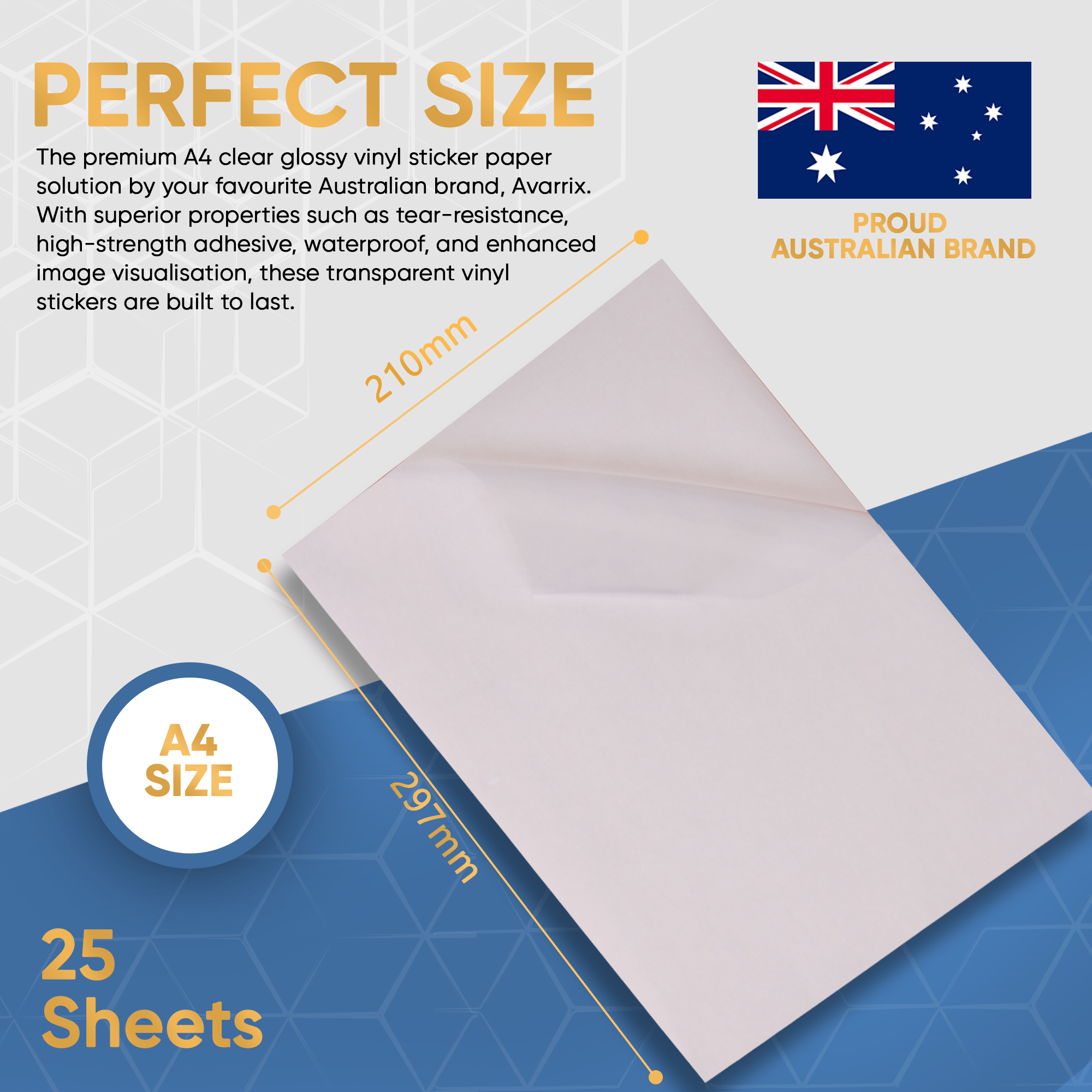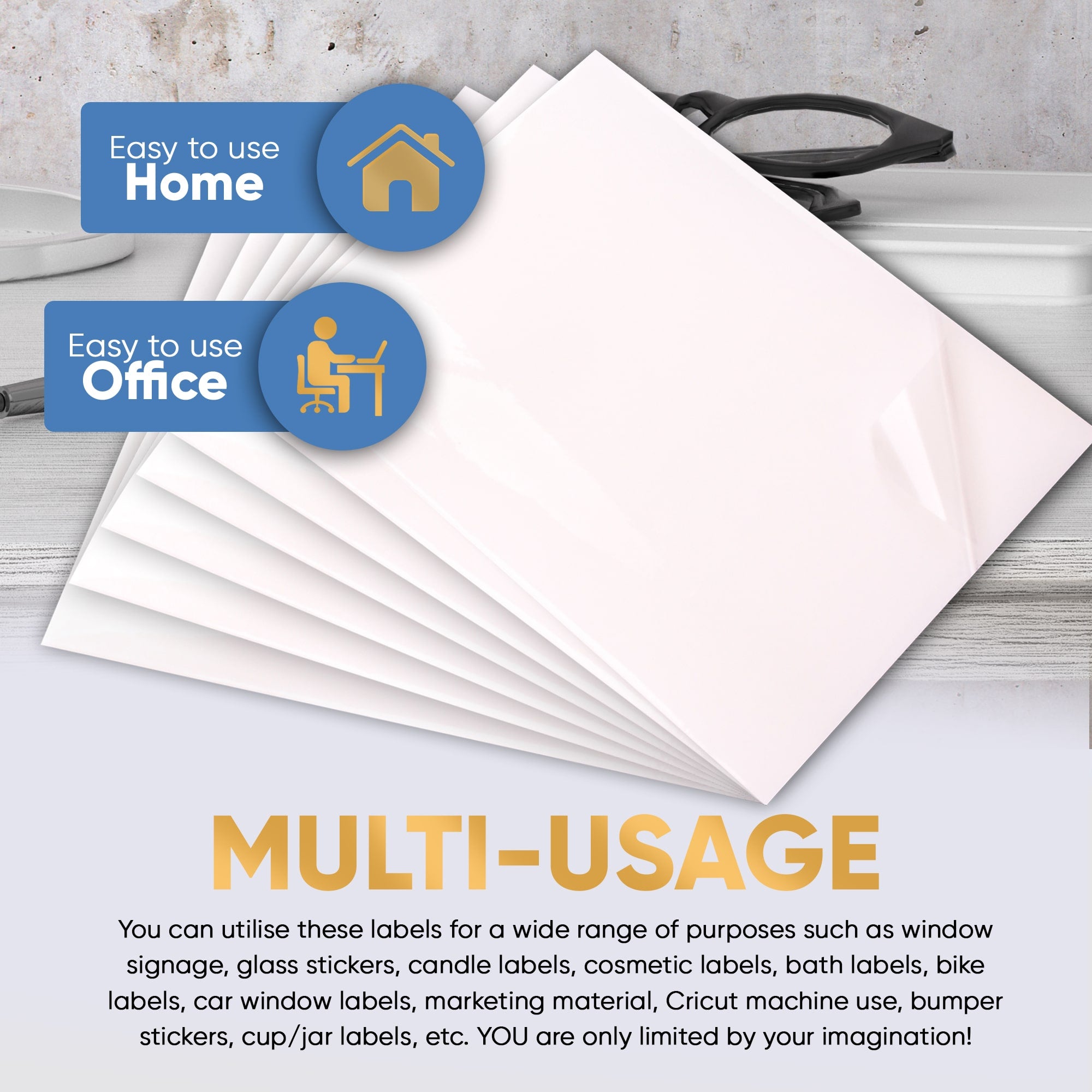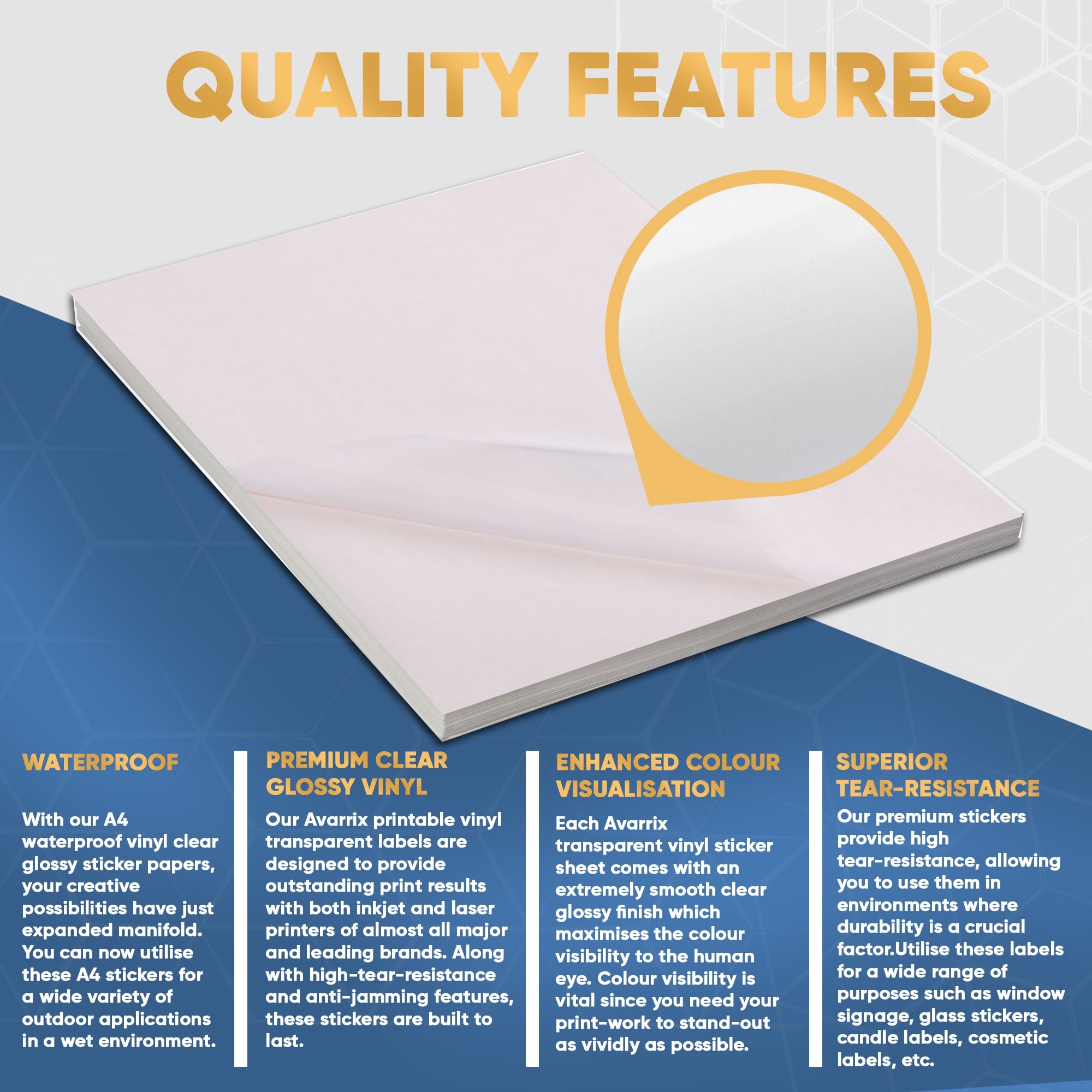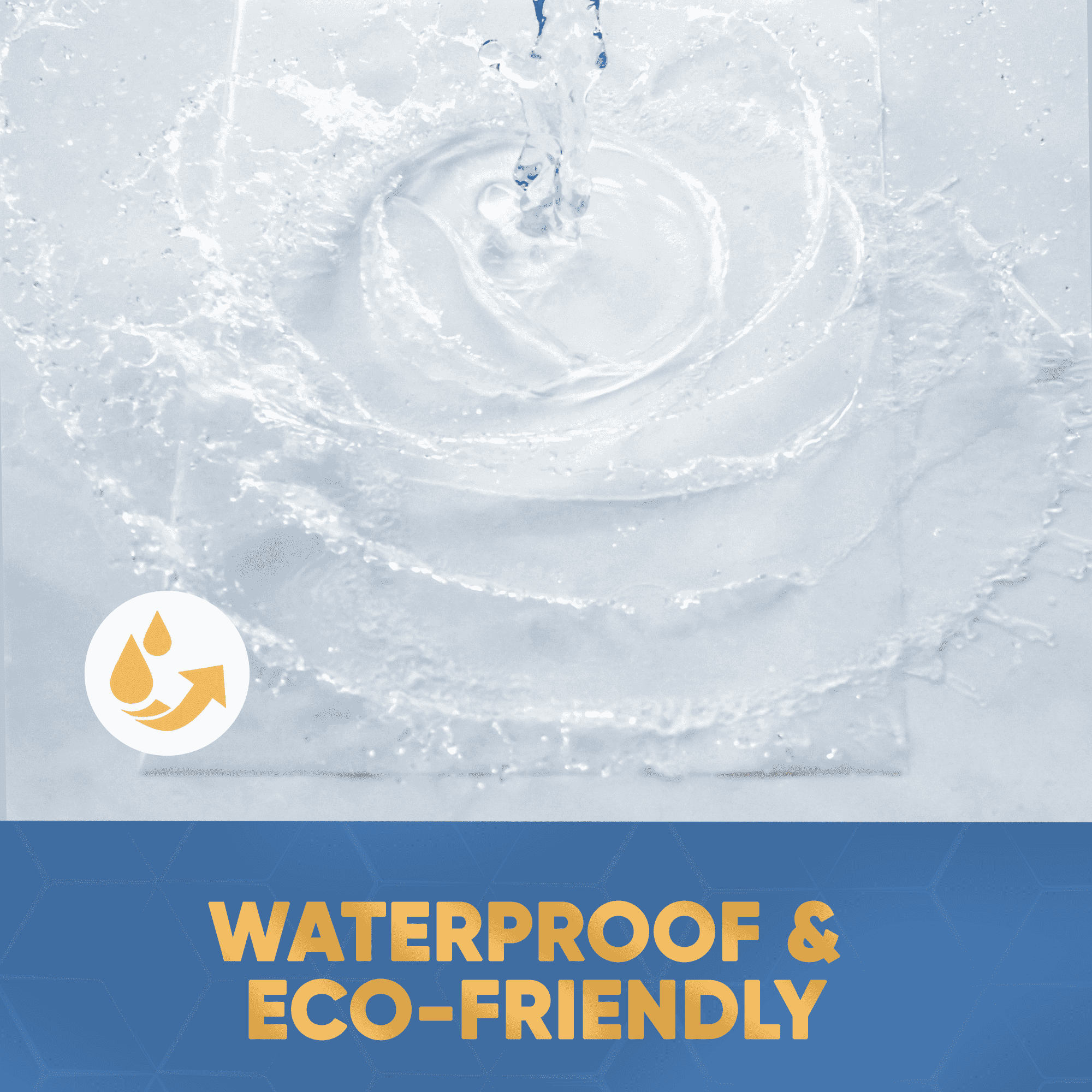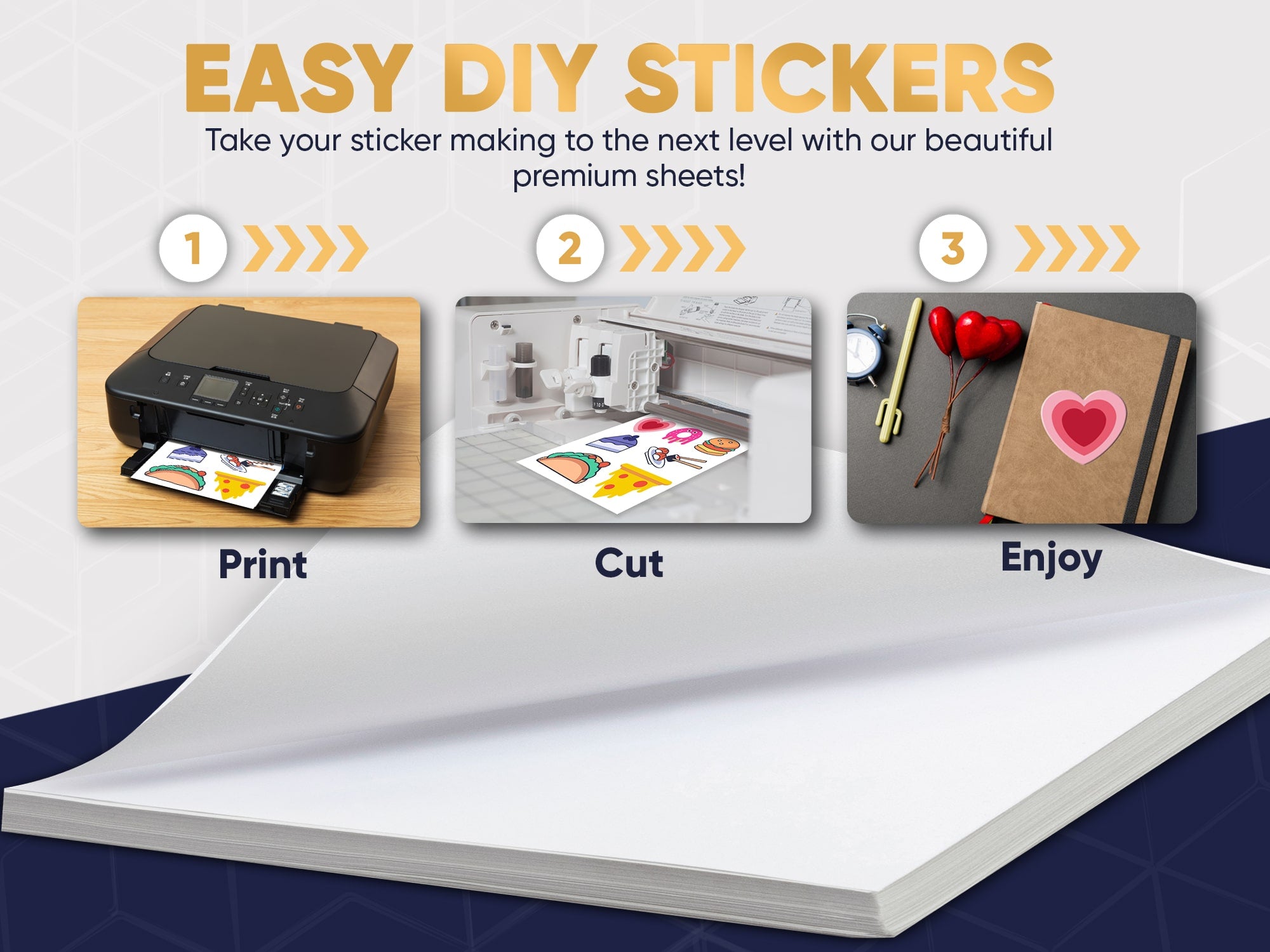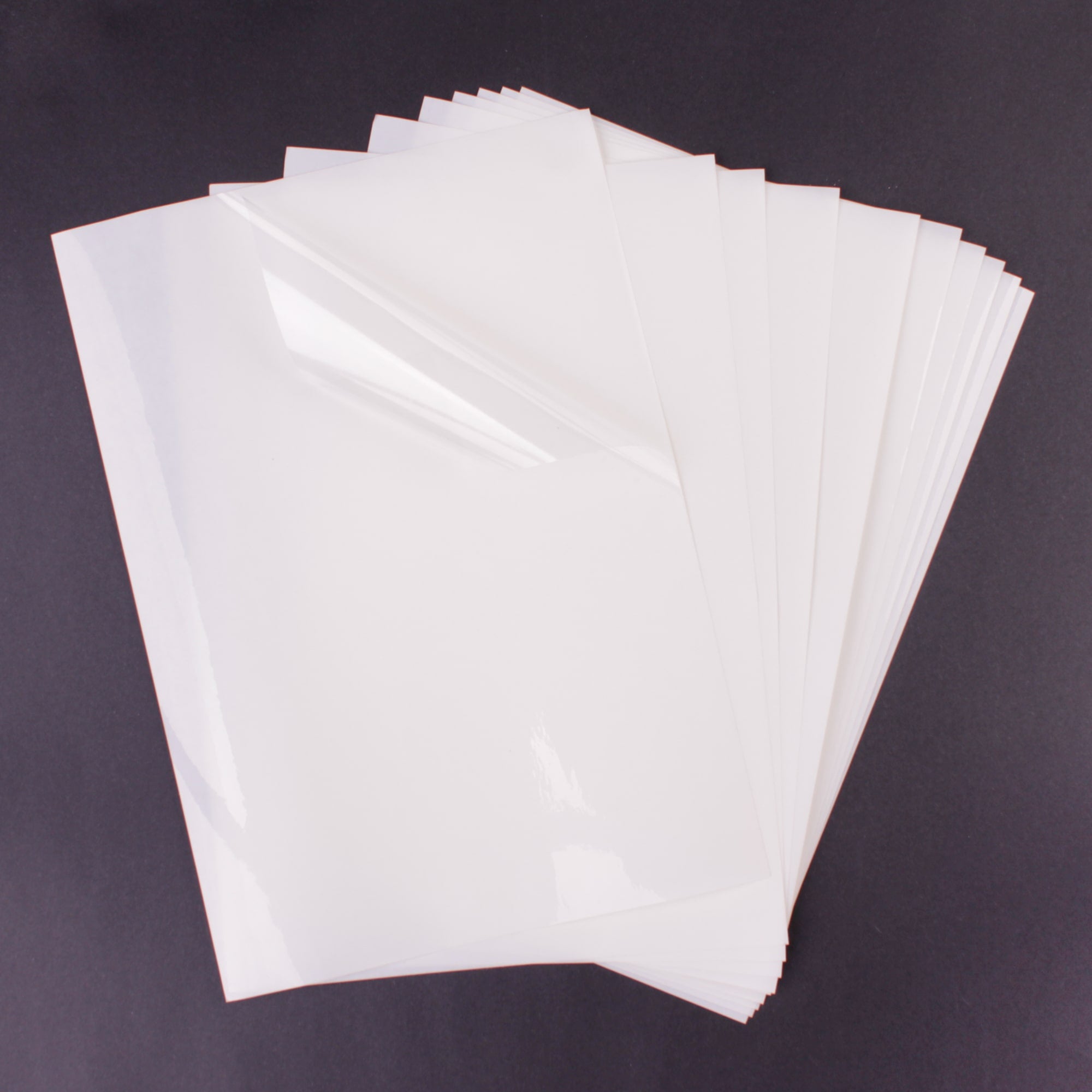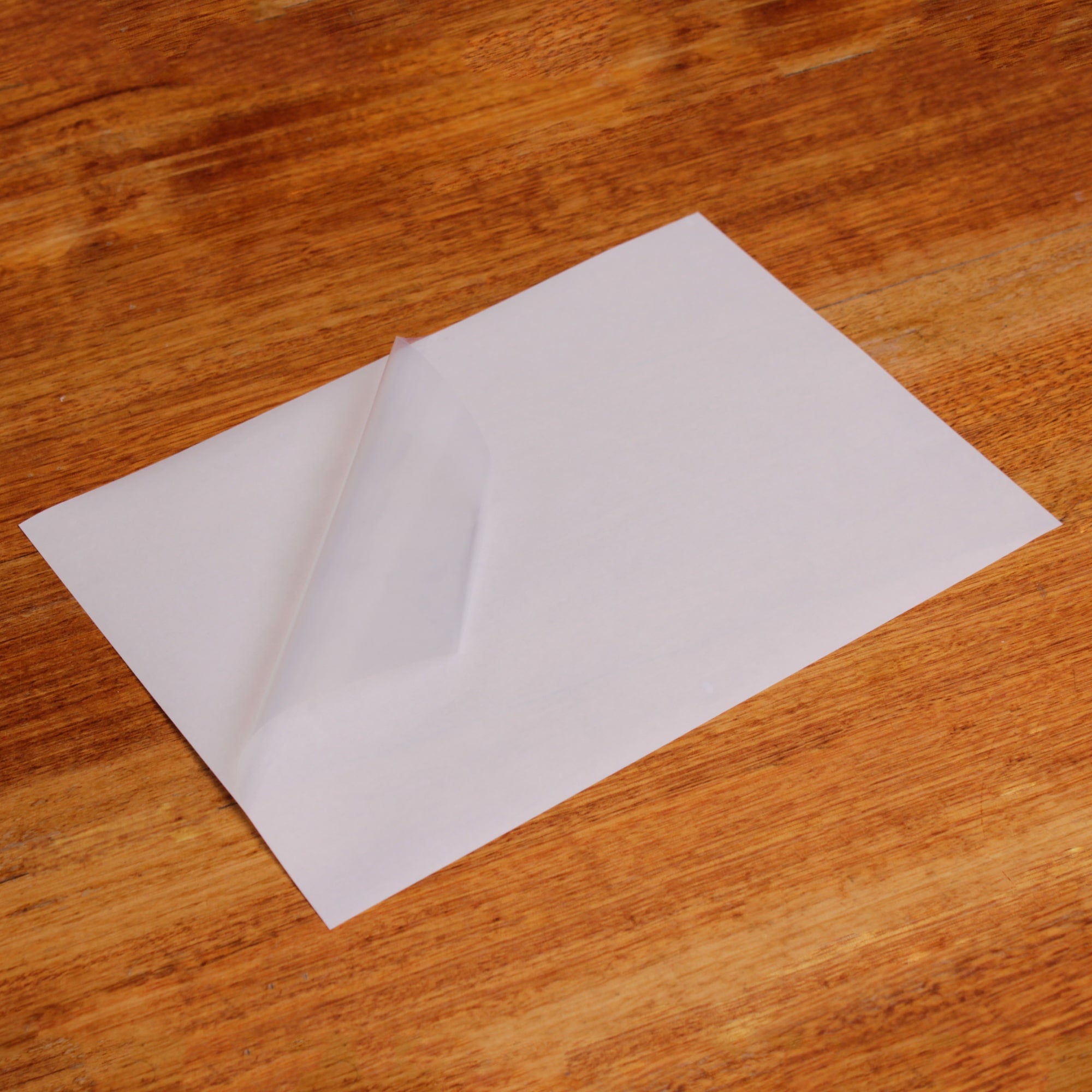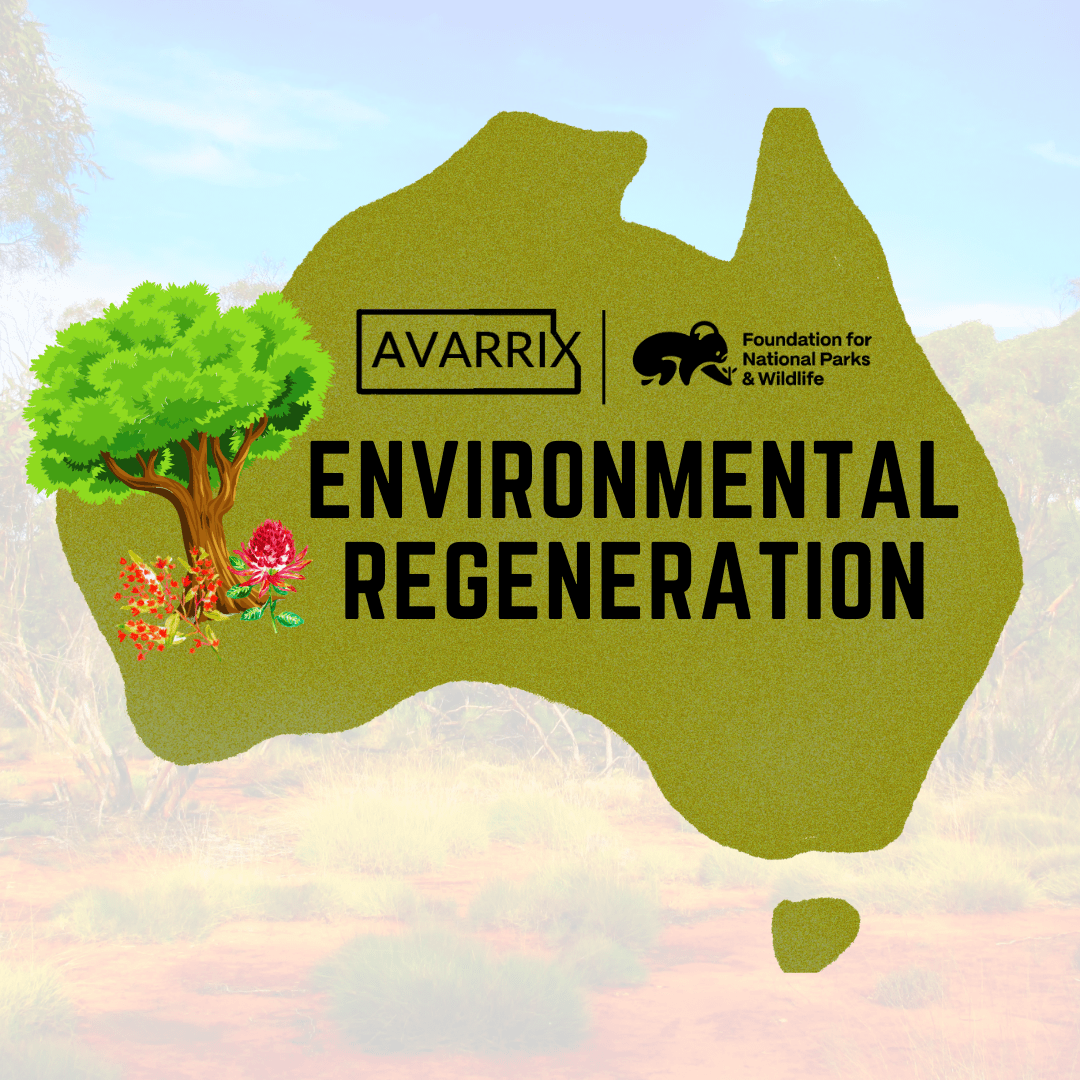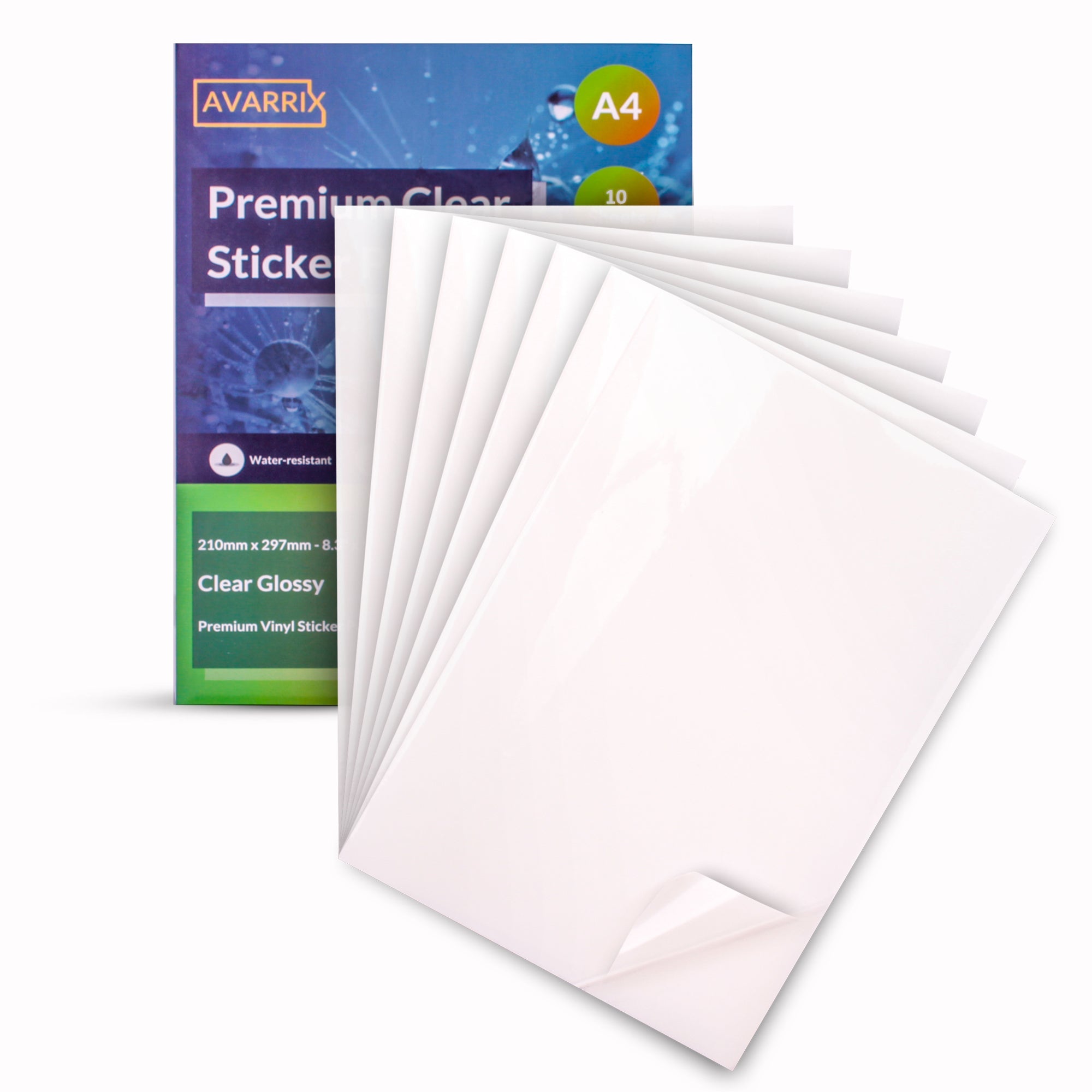 Printable Vinyl Sticker Paper - Frosted Clear Glossy - Inkjet & Laser - A4 - 50 Mic
Regular price
$448.99 AUD
Sale price
$448.99 AUD
Regular price
PRODUCT BENEFITS AND FEATURES:
PREMIUM FROSTED CLEAR VINYL – Our Avarrix frosted transparent Vinyl Sticker Paper sticker paper labels are designed to provide outstanding print results with almost all inkjet printers and most laser printers. Along with high-tear-resistance and anti-jamming features, these stickers are built to last. Additionally, our stickers are precision-cut to exact A4 dimensions, offering you the convenience you need in your labeling work. Moreover, our Adhesive comes from eco/vegan-friendly sources! (view transparent/non-frosted version here)
WATERPROOF – Waterproof for extended use in wet environments. Please allow at least 15 minutes for dry time when inkjet printing for maximum results. With these semi-clear A4 waterproof vinyl stickers, your creative possibilities have expanded a thousandfold.
ECO-FRIENDLY – Our backing sheet is 100% recyclable, making it the number one choice for eco-conscious people. Use this premium frosted clear vinyl stickers guilt-free!
SUPERIOR TEAR-RESISTANCE – Our premium frosted transparent stickers have high tear resistance, allowing you to use them in environments where durability is crucial. Utilize these labels for a wide range of purposes, such as window signage, glass stickers, candle labels, cosmetic labels, bath labels, bike labels, car window labels, marketing material, Cricut machine use, bumper stickers, cup/jar labels, etc. Your imagination only limits YOU!
ENHANCED COLOUR VISUALISATION – Our beautiful frosted clear labels come with an extremely smooth, transparent, glossy finish, which maximizes the color visibility to the human eye. Colour visibility is vital since you need your print work to stand out as vividly as possible.
HIGH STRENGTH ADHESIVE - A powerful, durable, and long-lasting adhesive that effortlessly bonds to almost any surface you apply to. You will not have to worry about your labels falling off when you use our clear vinyl stickers.
QUICK DRY-TIME - Increases the efficiency of your labelling process.
INKJET & LASER COMPATIBILITY – You can rest assured of the quality of your print-work since these clear vinyl sticker sheets are fully compatible with all major inkjet printer brands and most laser printers. Some brands include Epson, Canon, Brother, HP, Fujitsu, etc. These labels are also highly recommended for Cricut Machine use. Results vary with laser printers.
MULTI-PURPOSE & OUTDOOR USE – With waterproof and weather-resistant properties, our premium stickers can be used for a wide range of purposes such as Cricut machine use, marketing material, bumper stickers, cup and jar labels, notepads and notebooks, planners labels, shipping or postage labels, arts and craft project work, posters, name tags and etc. Feel free to Contact Us if you have any queries!
EFFORTLESS PEELING - Smooth surface peeling properties allows for effortless removal of your clear vinyl sheet from the backing paper.
LIGHTWEIGHT - with negligible mass, so it can be used with long-distance transportation of your goods.
VALUE FOR MONEY - Every pack contains 25 A4 self-adhesive sheets.
CONTENTS:
10 / 25 / 50 / 100 / 200 / 500 x Avarrix A4 Vinyl Frosted Clear Glossy Sheets.
TECHNICAL SPECS:
Model: VTCA425
Sticker Size (L x W): 210 x 297mm (8.3 x 11.7 in)
Sheet Size: A4
Sticker Paper Type: Vinyl
Paper Finish: Premium Clear Glossy
Colour: Frosted Transparent (view transparent/non-frosted version here)
Face Thickness: 50mic
Backing Thickness: 80gsm
Printer Compatibility: Suitable for home/office inkjet and laser printers. Results vary with laser printers.
Specific Uses for Product: Cricut Machine Use, DIY Sticker Sheets, Commercial Product Labels, Arts & Crafts, Bumper Stickers, Home Organisation Labels, Planner Stickers, General Indoor & Outdoor Use, and more!
PRINT MEDIA-TYPE SETTINGS:
CRICUT PRESSURE SETTINGS:
Kiss-Cut: Vinyl (+)
Die-Cut: Light Cardstock (+)
PRINT & CUT VIDEO:
ENVIRONMENTAL REGENRATION WITH
AVARRIX & FNPW
Avarrix is partnering with the Foundation of National Parks and Wildlife (FNPW) to protect and prolong pour great Australian environment! We're proudly support the FNPW in their incredible efforts to restore and maintain the plethora of flora and fauna that can be found all across Australia, and to do so, 25c from each product purchased on our website will go towards planting trees with the FNPW. This means when you purchase with us, you'll be playing your part in saving our precious environment!
Printable Vinyl Sticker Paper - Frosted Clear Glossy - Inkjet & Laser - A4 - 50 Mic
Excellent product and service
Love the result. So easy to use.
Great quality glossy sticker paper! Please consider making a clear matte sticker paper !
FREE delivery on all:
Australian orders over AUD $60.
International orders over AUD $100.
Yes, we can absolutely deliver to your PO box. Please ensure that you select the 'PO Box / Parcel Collect / Locker' shipping option at the checkout. Potential delivery delays and errors may occur if the incorrect shipping option is selected.
We aim to dispatch all orders the next business day, regardless of the delivery method you select at the checkout. While next-day dispatch is not guaranteed, please rest assured our team will do their best to ensure your goods leave the warehouse in a timely manner. Please allow 1-2 business days for your items to be dispatched in order to take into account potential delays.
We aim to dispatch all order placed before 12 PM (AEST) the same day. We cannot guarantee same-day dispatch for any Standard or Express delivery order placed.
While most parcels are delivered by the carrier within the estimated timeframes mentioned above, we understand that in-transit delays can occasionally occur. Refer to the email invoice to view the estimated timeframe. For a more accurate delivery date, please refer to your tracking information email.
It is advisable to first directly contact the third party carrier as this will allow you to get a fast and accurate response (please refer to your order tracking email for the carrier information).
If the carrier has not provided you with sufficient delivery information, please feel free to contact us and our customer service team will further investigate your order status. Please note, only parcels that are delayed over 3 business days beyond the estimated timeframes given above (15+ business days for Standard delivery and 8+ business days for Express delivery) are eligible for investigation from our side.